It's no secret. It's difficult to travel in the throes of a pandemic. This does not change the fact that nurses and nurse practitioners need to have continuing education credit earned to renew their licensure as well as new nurse practitioners and students need to learn new procedural skills. Especially when practicum hours are less ample and clinical sites are not allowing students in some areas, now more than ever a solution that does not require travel yet provides high-quality instruction is needed, and Skills On Point has stepped up to deliver.
Things you need to know about why our courses are so popular!
1. The supplies are yours to keep, and the supplies are very, very nice.
Admittedly, I am a suturing kit and procedural supply snob. As the owner and founder of Skills On Point, I can tell you the gear you get from Skills On Point is far nicer than most hospitals offer in their operating rooms, not to mention their outpatient care areas. We work closely with manufacturers who custom make us German steel instruments with tungsten carbide inserts and gold dipped handles. These include a custom-made pouch and our logo lasered on each piece so you know it's truly custom made for you!
The suturing pad is a non-biologic product meant to be lightweight, reusable, and durable. Skills On Point is the only US distributor of our pads. For those who take our Online Comprehensive Suture Training Workshop, you get a truly custom-made super realistic suturing pad to use. The base unit includes a fat layer and realistic skin and replicates a multiple layer closure better than anything we have ever used prior.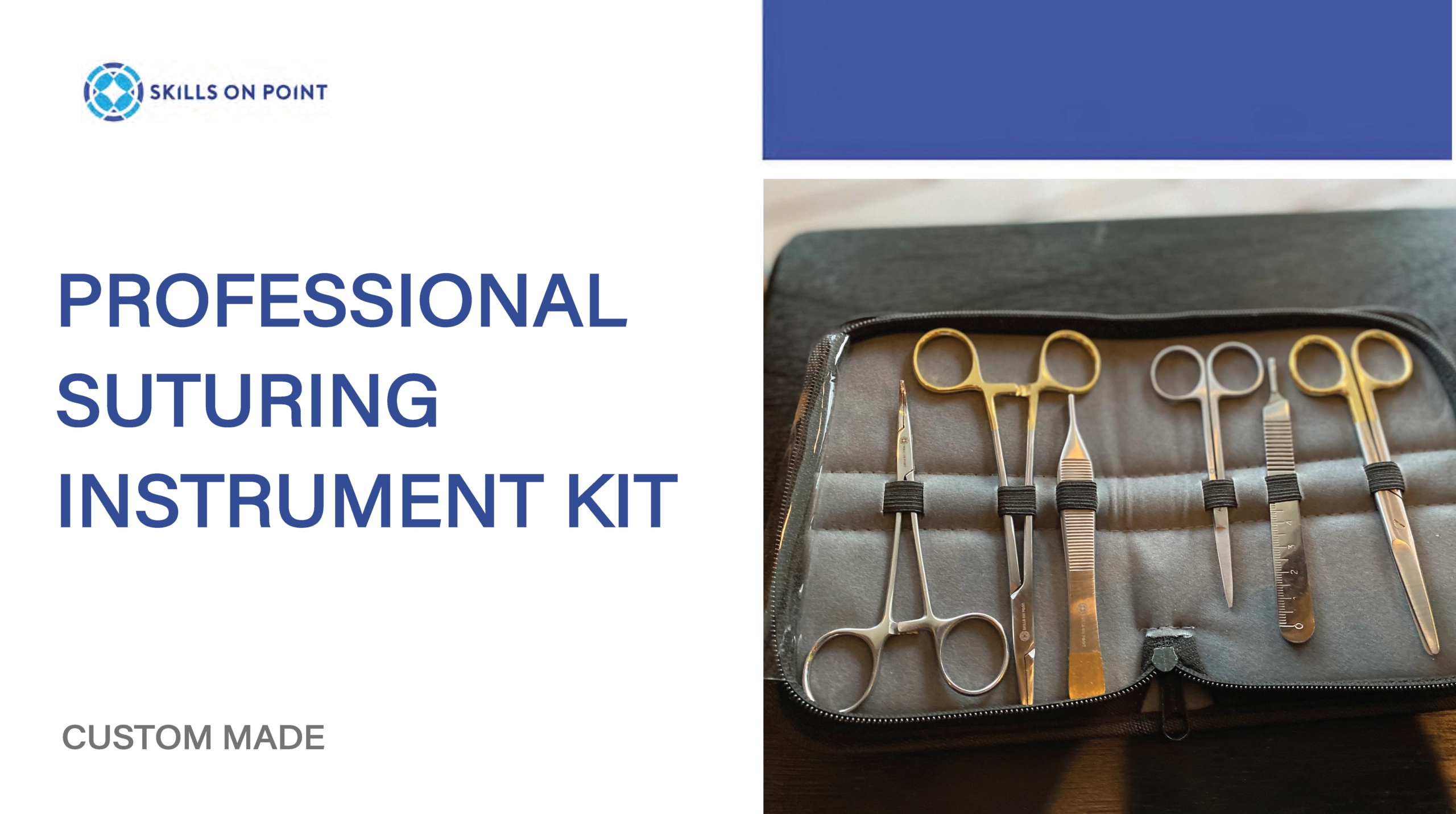 2. Videos are shot in very high definition designed for easy viewing on your phone.
Our suture class videos are so nice they have been used in multiple platforms such as FNP Mastery, My Mastery, 3D4 Medical, Lippincott, and others! Our goal is to provide you with truly fantastic training that makes it easy to learn from anywhere you go (or can't go due to travel restrictions and the healthcare climate). We include 100+ lectures and demos in each continuing education course for nurses and offer so many resources that go beyond just the basics of each technique.
3. You get lifetime access to the content you purchase.
That's right. You paid for it, it's yours. Not for 6 months, 12 months, or even on a month-to-month subscription model. You never know when you need to perform the skills we teach. Therefore we want to be your initial education company just as much as the one when you take a bathroom break before you do your next procedure and do a 60-second refresher to make sure your patient gets the best possible outcome. You get lifetime access and updates to evidence-based practice, and with that, any changes and updates we make seamlessly integrate to your profile in our online CE portal. Packed with all sorts of awesome content, ranging from pharmacology CE's to procedural courses.
4. When it comes to hands-on skills, interaction with our instructors is key.
We are all human and make mistakes, and with the process of learning, we need active feedback. To make sure you have this stuff down pat, not only can you re-watch the content as many times as you want, you also have access to dedicated expert instructors who love to make sure you are getting what you need with some 1:1 time via a synchronous office hours session. Whether it is a 10 minute question and answer or a 2 hour deeper dive, this is part of your course purchase and it helps make sure we fix errors as you are learning and developing muscle memory.
5. It's a super fun way to spend CME money!
And yes, it's all accredited for ANCC/AANP contact hours so you can get reimbursed and save travel funds, vacation days, and time away from your family, especially when it's not exactly a blast to travel. We offer private courses with this content as well and travel all around the county, so if you would rather attempt a small or large gathering, we can support it.
Courses we routinely offer can exceed 500 students per session or as few as 1-2 learners! We've got you covered and want you to know that it does not matter where you are, our courses are truly designed to be the best in the business. Even better, we offer a 30-day money back guarantee, so if it's not for you, you can simply get your money back after returning your unused supplies. Spoiler alert: Nobody has ever returned their course.
Sign Up for Our Self-Paced Skills and Suturing Courses Today!
It's time you checked out what everyone is talking about, and it's time you did something fun that expands your repertoire for your curriculum vitae and makes you more profitable in your job by helping you stretch your skillset and earnings further.
To learn more about all the awesome nursing continuing education courses we offer, check out our online CE portal. (FYI: our most popular course by far is The Online Family Practice Skills Workshop).
Let's get your Skills On Point!