For a new grad nurse practitioner seeking employment in a cardiothoracic surgery practice, the learning curve is steep and quite daunting. Not only are you likely to be working with a highly complex patient profile, but also a high level of expectation on your abilities as a diagnostician and proceduralist. Here are three easy steps to make sure your onboarding prepares you as best possible for each of the three unique facets of the CV surgery NP role: patient management, procedures, and assisting.
Start with a focus on clinical medicine.
To be perfectly honest, this will take years to become a truly expert clinician. The more experience in critical patient management you bring to your role will certainly expedite the comfort level you have in managing inpatient pre and post-surgical patients. Many CVICU nurses who go on in their education to become a nurse practitioner may find this a natural progression of a known skillset, but for those who have never set foot in a postoperative heart recovery room, this will require some research and independent study.
Robert Bojar's Manual of Perioperative Care in Adult Cardiac Surgery is a must read for understanding the pathophysiology and surgical processes you will be managing postoperatively. As well, you will need to know about the more obvious privileges you use daily such as 12 lead EKG interpretation, chest x-ray interpretation, vasopressors, atrial fibrillation, hypertension, diabetes, lipids, heart failure, anticoagulation, concepts of angiography, stenting, cancer staging, aneurysm and valve disease, just for a few examples.
You will also learn about how to plan patients for operative care with routine testing and risk stratification as well as what medical imaging and exams are used and why. Preoperative office visits for history and physical taking as well as education are valuable, as well as daily rounding, consultations, and discharge management, since many CV surgery teams will manage as attending from surgery forward and leave you to navigate the discharge process and provide the discharge summary. Understanding clinical medicine is part of the rest of your career, and as you finally get your bearings, you might consider adding in your next step of training: procedural skills.
Learn procedural skills as they present.
I do realize that in some institutions, you may be doing this from day one, and that is totally fine. I'll be the first to say that when I started, this was put off as non-essential because the goal was to get me up and running with the clinical medicine piece first, but I wanted to put a chest tube in on my first day as if it was a christening of sorts. That said, you may not have as stepwise of an approach to your role and if that is you, expect to feel overwhelmed with this portion if not separated out. Skills commonly used in CV surgery as a nurse practitioner may include central line insertion, arterial line insertion, intubation and airway management, removal of epicardial pacing wires, chest tube insertion, chest tube removal, thoracentesis, pleurodesis, or other common bedside procedures.
The unique CV surgery service and hospital dynamics will be the limiting factor as to what you are going to do based on your privileges, so take the time to focus on each one of these and make sure you go through the proper channels so they all count in your required number for the initial training required by the credentialing committee, if applicable. It is very common to keep a spreadsheet with the dates, procedure, indication, and a chart identifier so you can go back and provide documentation if requested to prove you have met the standard.
For those who need to learn these skills that may not have been taught in school, consider nurse practitioner continuing education courses or standalone training in these through services like Skills On Point, where we commonly provide 1:1 training in a list of content unique to the learner to specifically prepare them for a unique role such as this.
Transition to the operating room.
Not every nurse practitioner in CV surgery will be in the operating room, nor do procedures for that matter. Of those who do, they will likely require a formalized training in first assisting to meet hospital compliance and safety for the patients. When I started in CV surgery, this was not as common of a requirement, but as of late, this is becoming a rather prominent expectation, and for good reason too. Nurse practitioners working in CV surgery in the operating room may have some very advanced skills expected of them.
Skills Training
Endoscopic vein harvesting is commonly done by first assistants and in a sense, that is a surgery within the surgery. Training for EVH is done through either the equipment representatives or through standalone courses like ours, and then you will do cases with a on-site preceptor before having independence. It will take an average of 100 cases to feel comfortable doing EVH without assistance and not feeling like you are slowing down the entire case, which honestly, you probably are.
Suturing and advanced wound closure techniques are an absolute must and if you have not learned to hand tie, you certainly will need this skill. A formalized 16 hour suturing workshop such as our Comprehensive Suture Training Workshop is the bare minimum for this role. Sorry, your two hours on a pigs foot in nurse practitioner school is not going to cut it at this level.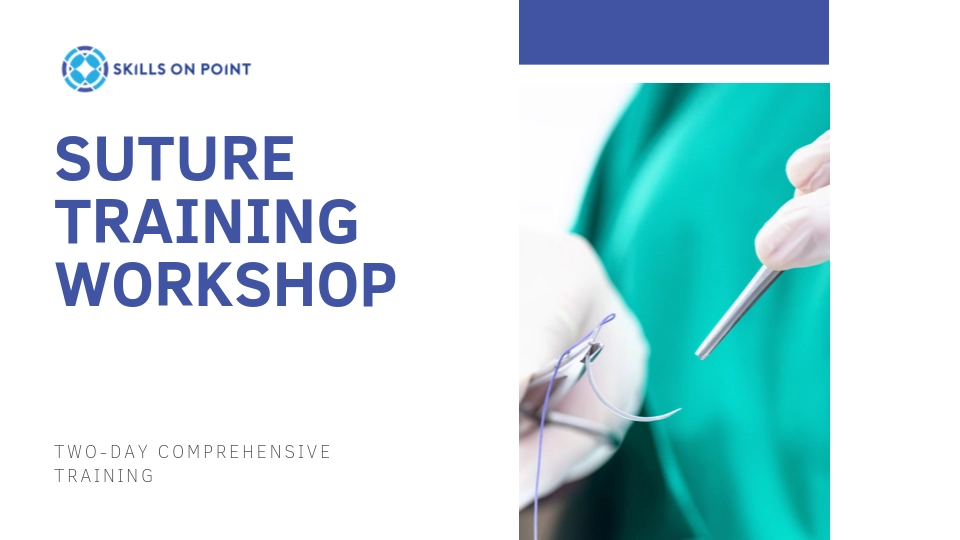 Retracting, manipulating veins and arteries and the heart as well as all the other minimally invasive things such as thoracoscopy and robotics are their own learning curve should you see these in your practice. Any way you look at it, you will walk into the operating room with a higher level of comfort and if nothing else, at least not act as such a liability when having a proper foundational training.
NIFA
The National Institute of First Assisting, Inc (NIFA) is the most prominent first assist training program in the US and the program that I underwent. This was by far the most valuable jump-start to my OR training and a required step for me to gain the privilege of assisting the operating room. Do realize that due to the complexity and cost of this training, you will want to plan a capital budget request for your training since it may cost over $10,000 when considering the program registration, flights, hotels, and incidentals. Have this conversation up front and plan this timeline so you can have your organization anticipate this expense, or else you might find yourself paying for it out of pocket.
I certainly hope this was a useful review of the three unique facets of a CV surgery nurse practitioner role which you may or may not fully encompass in your role. As always, Skills On Point is here to make sure you have all the skills you need to be a rock star in your role, so consider all the CEU courses we offer if you find yourself lacking in any area mentioned above.