So, you want to open your own NP-led clinic? And you're not sure how to start? Here are the top five ways to prepare yourself for your new professional adventure.
1. Check your state's laws
Check out your state's nurse practice act and laws regarding nurse practitioner practice. In the state of Illinois, we have full practice authority, but you do have to have a current national certification (such as through ANCC or AANP), an affidavit attesting to 250 hours of continuing education, and a verification of clinical experience of a minimum of 4,000 hours within your certification, signed by a physician or hospital medical staff committee or designee. All of this must then be signed by a notary public. Who will sign your attestation? Consider a current or previous collaborative physician, who has seen you provide care to patients. Bonus points for a strong working relationship and the freedom to call them with questions or a potential referral. Check out your state's online Department of Professional Regulation page for information, or, in Illinois, click here.
2. Consider what type of services you want to provide
Are you hoping to provide primary care services? Are you considering focusing more on wellness and health coaching? Will you want to provide lab services in your building? Will you have a point-of-care ultrasound available for difficult venipuncture? To operate a lab as well, you will need a CLIA certificate. Will you provide hands-on skills services, such as skin biopsies or suturing? Where will patients go for x-rays? What about referrals? You will want to have all of those relationships and contacts firmed up when you open the doors, so that you can get your patients in to be seen or for other types of services when and if you need them.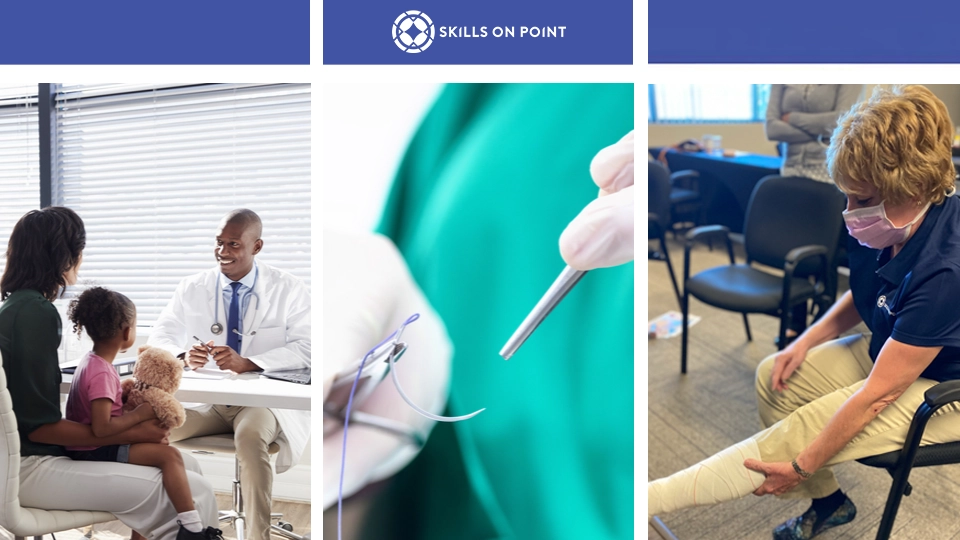 3. Consider your finances and payment structure
Will you submit to insurance? Will you charge your customers directly? What kind of income will you need to break even on your overhead costs? How will you fund your start-up? Will you need a business loan? Many people, the founder of Skills on Point, LLC included, started their business while still working their "regular" job full-time. Other business owners reduce their hours to part-time in order to both fund and allow time for their new business venture. As the business grows, you can continue to reduce hours elsewhere, or take the leap and invest full-time into your business!
4. Consider a strategic partnership
If you are hoping to have a practice devoted mostly to health and wellness, consider approaching a local gym or health food store to see if you could rent space inside or next to their facility. Consider a space that would give you 2 rooms for patient visits, group health coaching, a lab space, or whatever you need! You could potentially find mutual benefit through referrals, and if people are getting healthier, everyone wins.
5. Research other clinics
Research other NP-led, -owned and -operated clinics, such as the one started by Cole Whitmoyer, DNP in Billings, Montana a few years ago. He was the first nurse practitioner in the state to open a direct care clinic. His business is called Flex Family Health Direct Primary Care. When starting out, they did not submit to insurance, but instead charge a monthly fee (cheaper than your cell phone bill in many cases) for services rendered. As his business grew, he even expanded the clinic to include a physician!
Not there yet? New graduate? Finding your dream job in the post-coronavirus world can seem tricky. For tips on interviewing and negotiating as a new graduate nurse practitioner, check us out here.